Enjoy Fishing, Boating, Swimming, Hiking, Mountain Biking and much more!
With our setting in gorgeous Central Oregon, Big Pines RV Park has plenty of activities for you and your family. We're near a number of beautiful fishing and boating lakes, scenic drives, exciting attractions, and plenty of open space for outdoor activities. You'll find miles of hiking trails, boat launches, and fly-fishing streams, so pay us a visit today and start exploring Northern Klamath County!
The Cascade Lakes Highway, which is State Highway 46, is a loop and an official U.S. National Scenic Byway. This highway is open from June through October. Boaters and water-sports enthusiasts can enjoy sailing, canoeing, and windsurfing on nearby Davis, Odell, and Crescent Lakes. You'll find plenty of sandy beaches for swimming and wading, as well as fabulous mountain biking trails at Waldo, Maiden, and Crescent Lakes (located off of Highway 58).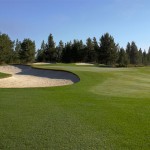 If your passion is golf, the Quail Run Golf Course is located about twenty-five minutes north of Big Pines RV Park and has 18 regulation holes, a Driving Range, and takes reservations up to six months in advance.