Anyone that has visited Big Pines recently has seen the new park map with the additional 4 acres labeled Future Expansion and you probably have a few questions.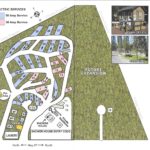 What is Bruce up to now? We are adding 35 full hook up sites, 31 that will be Big Rig pull thru sites. We will have a 720 square foot club house with a full kitchen, available for evening events and clubs.
When will the work be done? The Klamath County Planning Commission and Board of Commissioners unanimously approved the rezoning of the property in August 2016, (and again in April 2017). We are now in the design phase with our engineers (completed!). With their help we will move from our concept to formal plans and hope to have approved permits in the fall of 2017 (revised). Once we have permits, we can select and schedule contractors to begin construction. Completion of the project is expected to be June 2018 (revised).
Will it change the way the park feels today? Every effort will be made during the design phase to ensure that we do not create a parking lot. The spacious feeling is what sets Big Pines apart from the rest of the RV parks being created today.
How will construction impact my stay at the park in 2018? We will be doing everything possible to minimize impact to your stay. All construction activity will be south of the developed park, with a separate entrance. This page will be updated as we move forward and have specific dates for activities.
Our project has received a financial boost from Klamath County. We have just completed the process to receive an Economic Development Grant. The funds will be used to for the engineering and design phase of the project.
The generous grant of $7,500 was a portion of the $30,000 awarded through a competitive grant process we participated in that began in September 2016. We would like to thank the review committee and the commissioners for believing in our project and North Klamath County.
Next Step is Here! (3/27/17)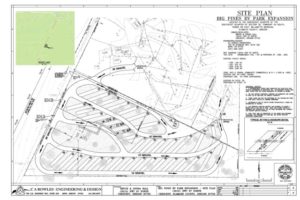 Our commercial site plan is complete and submitted for review, you can click the plan for a larger view. With professional assistance the plan now calls for 35 new 50/30 amp sites. 31 will be pull-thru sites and 4 back-in sites. Most sites will be 70 plus feet to accommodate the largest of rigs, because frankly we are tired of saying we don't have a space for you. Results from the County Planning review process should be back around May 15th.
June 23 – County Planning approved our plans and now we are off to the County Building Department.
As of October 13th we are still working with the building department to resolve some sticky design issues. For those following the project, our original hope had been to have the permits spring 2017, clearly many forces have delayed the project.
Progress on property clearing has improved with the addition of some new equipment. The excess building has been removed, the previous well has been abandoned, and an old septic system removed. Roads and sites are beginning to be defined, and our new city water meters have been installed.
The main infrastructure work is pending the development and building permits, and may not begin before the snow flies.
I just keep reminding myself this is a marathon, not a sprint.
If you have additional questions we haven't covered, please feel free to call us at 541-433-2785.